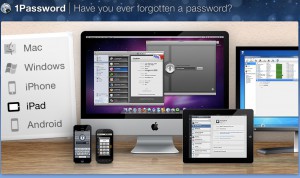 Do you use the Internet?  Yes, obviously.  Do you have online accounts at various websites?  Yes, again, obviously.  Do you use the same password for more than one of those accounts?  Yes, you do.  Admit it.  If you DO happen to use multiple different passwords for different accounts, how do you remember them all?  You can't.  How often must you go through a password reset process to get into your accounts?  How many times have you been locked out of an account because you tried too many unsuccessful logins, requiring a call to customer support (if you're lucky)?  Yes, I know… too often, right?
I'll briefly share my personal experiences with 1Password from AgileBits Inc, both from a product usability and customer support and perspective.  Their software tries to solve the password problem by offering a drop-dead-easy and secure way to store all your login details for all your accounts under a single 'master' password.  The software integrates right into your web browser, allowing you to easily store your login credentials with the program, and easily call those credentials back up and auto-submit them as you log into your various accounts.  It also offers a way to generate unique and complex passwords for when you're creating a new account (or updating the security of your existing accounts).
Best of all, for me, is that they offer software for OS X, iOS and Windows.  That means no matter which platform I happen to be using, all my password data is securely and automatically pushed to  all of my devices, via Dropbox and iCloud syncing.  if I add or change a password using 1Password on one device, all my other devices are updated too.  Simple.  But pure genius.
I could spend time explaining more about the capabilities of the software (I just glossed over the basics here), but I'd rather have you visit their site and read about it yourself.  Instead, I'll take my remaining words to describe my interaction with AgileBits when I had a problem while evaluating 1Password for OS X.
I downloaded the OS X trial, and had a problem with it expiring after just a few days, rather than the 30 that was advertised.  When I contacted support asking for some help, they immediately identified the problem, and on top of that went one step further: they sent me a fully licensed version of the software so I could continue my evaluation with no more licensing issues.  The only thing they asked of me was to actually come back and buy the software if I liked it and kept using it.  That sure seems fair.  More than fair, actually, compared to how other companies operate.
Needless to say, that kind of customer support deserves recognition.  I'm now the proud owner of 1Password on all three platforms, and would urge others to evaluate the software for their own needs.